Most people will occasionally suffer from dry hair which often accompanied by dandruff and dullness. There are many causes of dry hair including heredity, excessive washing and exposure to sun and wind, and overuse of hair care products. In addition to looking drab and unhealthy, dry hair can result in hair loss and dandruff. You can buy over-the-counter products to help with dry hair or you can try inexpensive home remedies for dry hair.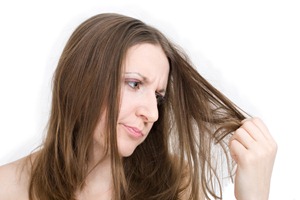 Home Remedies for Dry Hair
Home remedies for dry hair typically use ingredients that you already have at home. Most of these products help add moisture to your hair and provide extra nutrients that may be missing in your current products.
1. Pre-rinse Treatments
Pre-rinse treatments can be effective way to improve the health of your hair while restoring moisture.
Rice Milk. Keep some rice milk in your refrigerator and use it as a pre-rinse while you take your shower. Mix a cup of rice milk with a teaspoon of honey; use more milk and honey if you have longer hair. Wet your hair in the shower then rinse with the rice milk solution and leave it in for about 10 minutes. Shampoo as normal before you get out of the shower.
Vinegar. Vinegar is an old remedy for dry, dull hair. Mix some apple cider vinegar with water and rinse your hair with the solution. Because the solution removes build up from hair products, you will find that your hair is much easier to comb after using vinegar as a pre-rinse. Be aware that this treatment should be used no more than one time each month since the acid in the vinegar can weaken your hair with excessive use.
2. Scalp Massage
In addition to feeling great, a scalp massage with different mixtures can help promote the health of your scalp and decrease your dry hair.
Essential Oil Mixture. Once a week, choose your favorite oil and warm 2-3 teaspoons of the oil. Olive, almond, coconut or jojoba oils are particularly good for this purpose. Be sure the oil is not too hot as you massage it into your hair. Wrap your hair in a warm towel for about 20 minutes. Shampoo the oil out of your hair and condition if you feel you need the extra conditioning. Do not use too much oil since it can leave your hair looking greasy after you rinse your hair.
Sesame Oil. Sesame oil is a relatively cheap alternative to other more expensive oils and can be used as a scalp massage each week. Mix 2-3 teaspoons of sesame oil with some grated ginger and massage into your scalp. The ginger is particularly useful if you have a problem with dandruff. Wrap your hair in a warm towel and allow the oil to stay on your hair for 10-15 minutes. Then, shampoo to remove the excess oil.
Coconut Oil. Use coconut oil as a massage into your hair and scalp. For this one, you might have to go to a health food store to buy argan and rosehip oils. Mix 2 tablespoons of coconut oil with a tablespoon of argan oil and a few drops of rosehip. Wash your hair and then towel dry until it is just damp. Massage the mixture into your scalp and comb through your hair. Wrap a warm towel around your head and leave it in place for 15-30 minutes. Remove the towel, wash and condition your hair.
3. Deep Conditioners
After shampooing you hair, you can try the following items to replace the commercial conditioners.
Okra. Boil a few stalks of okra until they are soft. Remove the mixture from the heat and let it cool. Remove the okra stalks from the water. Wash your hair with your regular shampoo then use the okra water as a conditioner. Rinse your hair as you normally would.
Beer. Beer has been used for years by people who want to add moisture to dry hair. Shampoo your hair then spray a small amount of beer onto your hair. Dry and style your hair. Once it is dry, the beer smell will be gone and your hair will no longer be dry.
4. Hair Masks
Hair masks are thicker pastes that can be used as needed to increase the moisture in dry hair.
Banana and Honey. A banana and honey mask will increase the hydration of your hair to leave it very soft and well-nourished. Take one very ripe banana and mash it – the riper the banana the better. If you have very long hair, you may need to use 2 bananas. Add a tablespoon of almond oil (if available) and two tablespoons of honey and mix well. This mask should be applied when your hair is dry. Leave it on your hair for 20-30 minutes then wash your hair as normal.
Mayonnaise and Honey. If you do not have ripe bananas on hand, try using ¼ cup mayonnaise mixed with 2 tablespoons of honey and a tablespoon of avocado or coconut oil (if available). After thoroughly mixing the ingredients, apply the mixture to the full length of your hair. Rinse it off after 20-30 minutes.
Avocado and Olive Oil. The final home remedy for dry hair is a hair mask of avocado and olive oil. Scoop out and mash the insides of a ripe avocado. Add two tablespoons of olive oil and mix well until the mixture is thick and smooth. Shampoo and rinse your hair then apply the mixture to your hair and leave it in place for 30 minutes. After 30 minutes, shampoo your hair with your normal shampoo. This mixture is particularly good because avocado is a great source for Vitamins A and E and saturated fats.
Tips to Prevent Dry Hair
Cut back on your shampooing habits. Remember that too frequent use of shampoo can make your hair very dry.
Use a hair dryer sparingly. The dry heat will pull the moisture out of your hair.
Avoid the overuse of hair products. These can be very drying and will make your hair more brittle.
Avoid dust and other pollutants that can dry your hair. Over exposure to sun will dry your hair.
Do not comb or brush wet hair since this will increase the possibility of breaking your hair off.
Use only warm water to wash your hair and rinse with cool water. Hot water tends to strip the moisture out of your hair.
Get your hair trimmed regularly to avoid split ends.