Carbohydrates, or carbs as they are often referred to, are the sugars and starches present in many foods and drinks. They are essential nutrients that supply energy to cells and tissues. Once eaten, carbohydrates are converted into glycogen which is then stored in the body for later use when more energy is needed. While carbohydrates are essential for normal bodily and metabolic function, excessive consumption causes the accumulation of fats and weight gain. To avoid this weight gain it is wise to incorporate low-carb or no-carb foods into your daily diet.
No-Carb Breakfast Foods
| Food | Reason |
| --- | --- |
| Egg | Eating eggs in the morning provides you with 6 grams of protein, zero carbohydrates and only 70 calories per egg. Since they are a breakfast staple you can find eggs on the menu at many restaurants, but be sure to check with your server to make sure nothing is added to the eggs, like flour or other thickening agents. |
| Low-fat Cheese | Cheeses that are low in fat provide an extra boost of protein without a heavy amount of carbohydrates. Some low-fat cheeses may have a gram or so of carbs per serving, but it isn't anything to fret over because of the protein and fat content which slows the absorption of the carbohydrates. |
| Poultry and Lean Meats | Deli meats like ham and turkey are often added to omelets in addition to cheeses and vegetables. These meats add flavor and protein to any breakfast meal without adding carbohydrates. Be sure to look for low-sodium meats. |
| Vegetables | Incorporating vegetables into your breakfast can help you get your daily servings. Reach for low carb veggies like kale, collard greens, spinach, asparagus, and lettuce leaves. |
| Others | You can add tomatoes, fish, protein shakes, yogurt, veal and lamb to your list of no-carb breakfast options as well. Smoke or steam these meats and pair them with vegetables and eggs for a balanced breakfast. Yogurt and protein shakes are great on the go choices. |
Low-Carb or No-Carb Breakfast Recipes
1. Cheese Blintz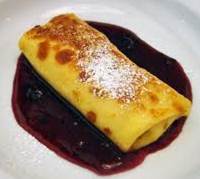 Servings: 1
Time Needed: 25 minutes
Ingredients:
1 pat of butter
1 medium egg
2 tablespoons of ricotta cheese
1 tablespoons of sour cream
1 tablespoons of half & half
1 teaspoon of olive oil
4 g soy protein isolate
1 packet of sweetener
Instructions:
Cream sour cream, ricotta cheese, and Splenda. Then set aside.
Beat the egg, half & half, and protein powder into smooth batter.
Lightly grease bottom of 10" fry pan with olive oil. Melt butter over low to medium heat.
Pour batter into fry pan and gently roll the pan to cover bottom of pan. After the batter has solidified, gently turn with spatula.
Cook till golden. Place crept on plate, spread a spoonful of cheese filling in the center and roll crepe-style.
2. Flax Bread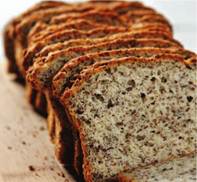 Servings: 10
Time Needed: 20 minutes
Ingredients:
2 large eggs
2 tablespoons of olive oil
1 tablespoons of vanilla
1 cup of whole ground flax
½ teaspoon of baking soda
½ teaspoon of baking powder
1 packet of sweetener
½ cup of chopped walnuts
⅔ cup of water
Instructions:
Grind the flax seeds.
In one bowl, mix ground flax, baking soda and baking powder. Add walnuts.
In a second bowl, combine eggs, water, oil, sweetener (like Stevia or Splenda) and vanilla. Mix well.
Grease an 8" microwave casserole dish.
Combine dry and wet ingredients and pour into casserole dish.
Microwave on high for 5 minutes.
Turn casserole upside down onto a baking rack. Cool. Turn over and serve sliced, with cream cheese & berries.
3. Sausage and Egg Muffins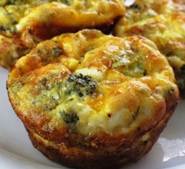 Servings: 12
Time Needed: 30 minutes
Ingredients:
¼ cup of cream (half & half)
12 large eggs
1 teaspoon of pepper
1 teaspoon of salt
16 oz. pork sausage
Instructions:
Preheat oven to 350 °F (175 °C). Spray muffin tin with cooking spray and fill each cup halfway with cooked sausage.
Mix eggs and cream together. If desired, add cheese, bacon, salsa, onions - be creative. Spoon on top of the sausage until each muffin cup is almost full.
Bake for approximately 20 minutes, until eggs are done and slightly golden.
Remove from oven and let cool slightly. Gently use a spoon to remove the sausage muffins and enjoy hot.
4. Breakfast Meatballs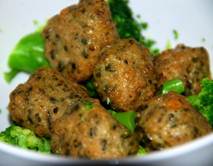 Servings: 15
Time Needed: 30 minutes
Ingredients:
½ pound of shredded cheddar cheese,
3 large eggs
32 ounces pork sausage
2 tablespoons of onion, minced
1 pound of lean ground beef
Instructions:
Pre-heat oven to 350° F (175° C).
Combine all ingredients in a bowl. Mix thoroughly.
Roll into 1 1/2" balls or drop by tablespoonful onto a cooking sheet.
Bake for 18-20 minutes.
This recipe makes 50 - 60 meatballs that can be eaten hot, or frozen for later use.
5. Veggie Quiche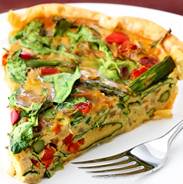 Servings: 6
Time Needed: 45 minutes
Ingredients:
6 large eggs
1 ½ cups of low-fat cheddar cheese, shredded
½ cup of low-fat half & half cream
1 tablespoon of pepper
¼ teaspoon of cayenne pepper (red pepper)
1 teaspoon of salt
3 cups of broccoli
Instructions:
Pre-heat oven to 375° F (200° C).
Lightly steam broccoli.
Spread steamed broccoli in a 9" pie plate.
Sprinkle broccoli with shredded cheese.
Combine remaining ingredients, stirring with a whisk until well blended to make a custard mixture.
Pour egg custard mixture over the broccoli and cheese.
Bake in pre-heated oven for 35 minutes until the custard is firm.