Vitamin C is a nutrient that is necessary for normal development and growth in the body while providing essential antioxidants that can be used to remove dangerous free radicals from the body. This allows vitamin C to repair tissues throughout the body in addition to numerous other health benefits of consuming this nutrient. It is necessary to have a steady stream of vitamin C in your diet in order to gain these benefits. Read on to learn about more benefits of vitamin C.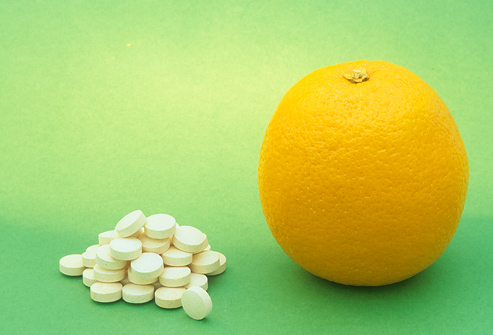 Benefits of Vitamin C
Vitamin C has been found to be used in a variety of bodily functions that incorporate a number of organ systems, further solidifying the idea that it is essential to get an adequate amount of this vitamin in your regular diet.
Colds. Vitamin C is often cited as a cure for the common cold. In fact, you cannot cure the common cold by ingesting any particular nutrient, but ensuring that your body has an adequate supply of vitamin C can help to prevent more severe complications such as lung infections or pneumonia from developing.
Stroke. Studies have indicated that people who have high concentrations of vitamin C in their bloodstream are 42 percent less likely to suffer from a stroke than those that have very low concentrations of this vitamin in their system, though the reasoning behind this phenomenon is unclear. It is essential to eat plenty of fruits and vegetables to get the adequate supply of vitamin C to establish this lower stroke risk.
Eye Conditions. Vitamin C is highly concentrated in the tissues of the eye and the ocular blood vessels. It has also been found that getting an adequate supply of vitamin C can are significantly less likely to develop glaucoma, nuclear cataracts, and some are able to avert the onset of cataracts by as much as 10 years by altering their diet to include more of this nutrient. 300mg per day was found to be the minimum dose of vitamin C to see these effects. The National Eye Institute found that consuming 500mg per day of vitamin C and other antioxidants such as zinc, vitamin E or beta carotene could help to reduce the effects of age related macular degeneration. Individuals that were at a very high risk of this condition saw as much as 19 percent improvement and the average individual saw as much as a 25 percent decrease in their symptoms.
Skin Aging. Additional studies have noted that increasing your intake of vitamin C can decrease dryness and wrinkling and improve the aging appearance of the skin.
Stress. Vitamin C can help to revitalize your immune system when stress has left it weak, a common issue in today's overactive society. Vitamin C is quite sensitive to stress so individuals that are obese, alcoholic or smoke tend to see deficiencies of this nutrient. Checking overall vitamin C levels is a common examination to determine overall health levels.
Others. Getting an adequate supply of vitamin C has also been found to assist in preventing bronchitis, asthma, high blood pressure, cardiovascular disease, and inflammation.
Food Sources of Vitamin C
Those that are interested in better taking advantage of the health benefits of consuming more vitamin C can use a variety of foods to increase their supply.
| Category | Food |
| --- | --- |
| Fruits | Kiwi fruit, watermelon, citrus fruits such as grapefruit or orange, blueberries, cranberries, raspberries, strawberries, papaya, mango and pineapple |
| Vegetables | Winter squash, sweet potatoes, white potatoes, tomatoes, cabbage, spinach, leafy greens, turnip greens, Brussels sprouts, cauliflower, broccoli, red peppers and green peppers. |
Recommended Intakes of Vitamin C
The amount of vitamin C a person needs will vary, so it is important to note the recommended amount of vitamin C for your size as well as the upper tolerable intake for this vitamin so you do not wind up consuming more than you need.
1. RDA or Recommended Dietary Allowance
Daily recommended intakes were created by the Food and Nutrition Board as a set of values that could be used by healthy people to determine the most appropriate amount of a nutrient to consume. These are applicable for 97-98 percent of healthy people.
| Age | Male | Female | Pregnancy | Lactation |
| --- | --- | --- | --- | --- |
| 0-6 months | 40mg | 40mg | _ | _ |
| 7-12 months | 50mg | 50mg | _ | _ |
| 1-3 years | 15mg | 15mg | _ | _ |
| 4-8 years | 25mg | 25mg | _ | _ |
| 9-13 years | 45mg | 45mg | _ | _ |
| 14-18 years | 75mg | 65mg | 80mg | 115mg |
| 19 years and older | 90mg | 75mg | 85mg | 120mg |
2. AI or Adequate Intake
Adequate intake refers to levels that provide an assumed level of nutritional adequacy though evidence is insufficient to determine a specific amount of a vitamin needed to provide results.
In most cases it has been found that consuming 500mg of vitamin C each day is adequate to achieve any necessary health results. In general, it is advised to attempt to eat nine servings of fruits and vegetables to get all of the phytochemicals, vitamins and minerals that are necessary to maintain your overall health. Some foods are particularly helpful in providing an adequate intake of vitamin C that is helpful for your body.
| Food | Serving Size |
| --- | --- |
| Cantaloupe | 1 cup: 50mg of vitamin C |
| Orange Juice | 1 cup: 97mg |
| Cooked Broccoli | 1 cup: 74mg |
| Red Cabbage | ½ cup: 40mg |
| Green Pepper | ½ cup: 60mg |
| Red Pepper | ½ cup: 95mg |
| Kiwi | 1 medium: 70mg |
| Tomato Juice | 1 cup: 45mg |
3. UL or Tolerable Upper Intake Level
The tolerable uptake level refers to the maximum amount of a substance you can consume in a day before you begin to experience negative health effects.
| Age | Male | Female | Pregnancy | Lactation |
| --- | --- | --- | --- | --- |
| 1-3 years | 400mg | 400mg | _ | _ |
| 4-8 years | 650mg | 650mg | _ | _ |
| 9-13 years | 1200mg | 1200mg | _ | _ |
| 14-18 years | 1800mg | 1800mg | 1800mg | 1800mg |
| 19 years and older | 2000mg | 2000mg | 2000mg | 2000mg |