People have been using face masks to enhance their complexion and give their skin a healthy appearance almost since the beginning of time. Now there are myriad facial masks available on the market. Along with the beneficial ingredients in these commercial facials, there are often unnatural or synthetic ingredients that may not be the best choice for your delicate skin.
The makers of those products also don't want you to know another important secret: you can make facial masks right in your own home with ingredients you probably already have in your kitchen. They are inexpensive, chemical-free and you can customize your homemade face masks to meet your specific needs. Whether you want to moisturize, exfoliate, deep clean, decrease fine lines, or protect your skin from the effects of the sun, environmental factors or aging, you can create a homemade face mask that does the trick.
Types of Face Masks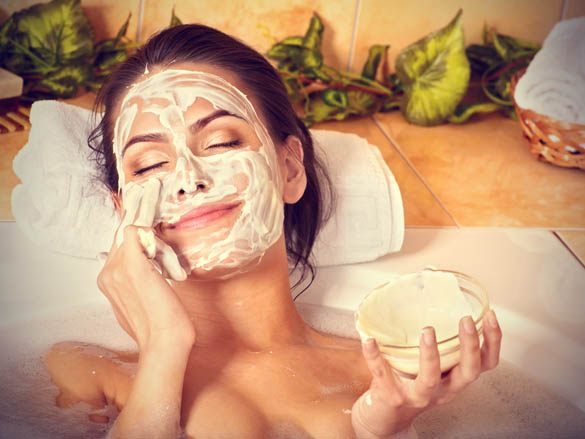 No one face mask is perfect for every face. Before you decide on which ingredients you use, you need to determine what type of skin you have and what you want to achieve. For instance, cream masks are great for moisturizing dry skin while more astringent masks work well on oily skin. Exfoliating masks cleanse the skin, removing dead skin cells and impurities which can encourage pimples and blackheads to appear. Some homemade face masks work best for people dealing with acne; others are meant to encourage the production of elastin and collagen to keep skin smooth and glowing. Before you decide what put in your face mask, decide what you want it to do for you.
Benefits of Various Homemade Face Masks
There is a huge variety of ingredients you can include in your DIY face masks depending on what you want to accomplish. You may want to make up several different masks or create customized masks to achieve multiple effects. Here are some of the benefits that different types of ingredients deliver:
Essential fatty acids are vital for skin care. They shield skin cell membranes, make it possible for moisture to penetrate the cells, and then lock it in to keep skin plump and dewy fresh.
Antioxidants protect against damage from free radicals which cause premature aging of the skin.
Carrier oils,derived from the fatty portions of plants,help keep other oils from evaporating and each has their own therapeutic benefits.
Enzymes,such as papain which is found in papaya and cantaloupe, dissolve dead skin cells and encourage the production of collagen.
Essential oils, also made from plants,offer a multitude of skin benefits. They can tighten skin, reduce signs of aging like wrinkles, and nourish and repair your skin. There are dozens of essential oils available, each with their own therapeutic benefits.
Humectants, found in many items such as honey, aloe vera, and jojoba oil, attract moisture and help heal skin.
Avocado: Rich in numerous vitamins, avocado offers superior moisturizing and helps protect the skin from harmful UV rays of the sun.
Papaya, asan excellent moisturizer, helps reduce signs of aging and dark spots, and fights acne. Papaya is also a natural exfoliate, helps make skin firmer, more elastic, and keeps skin dewy.
Fruits and acids contain salicylic acids (which fight acne), glycolic acids, alpha hydroxyl acids, and others, all of which help remove dead skin cells and put the skin into "repair" mode.
Coconut oil, asan antioxidant,isantifungal, antiviral and rich in Vitamin E. It contains an abundance of essential fatty acids and is a necessity for healthy skin.
Apples or applesauce contains elastin and collagen, essential for youthful looking skin.
Bananas,rich in antioxidants, are antibacterial and great sources of vitamins that encourage production of collagen.
Cucumbers contain hyaluronic acid, collagen, and glycerin, helping control the balance of oils in the skin.
Eggs: The yolks help control oil production and prevent clogged pores. The whites clean and tighten skin.
Olive oilis another great source of antioxidants and also contains Vitamin A to help produce a natural glow and Vitamin E to fight premature aging of the skin.
Honey absorbs and retains moisture.
Oatmealis an excellent humectant and a natural exfoliant that contains numerous amino acids to promote healing, rebuild tissue and moisturize skin.
Pumpkin, rich in Vitamins A, E, and C, soothes and softens damaged skin, reduces the size of pores, and acts as an anti-inflammatory agent.
Sugar exfoliates skin.
Tomatoes, an astringent to remove excess oils, soothe raw skinand brighten dull skin.
Milk softens and exfoliates skin.
Lemon is a natural astringent that lightens acne scars and dries up pimples.
Strawberries are rich sources of salicylic acid used in many acne treatments.
Yogurt soothes and moisturizes all skin types.
Aloe vera is a good humectant that soothes skin. It is also great for sunburns.
Great Ingredients for Your Homemade Face Masks
For all the ingredients mentioned above, you can choose and customize a homemade skin mask that's perfect for you.
Tips for Using Homemade Facial Masks
To get the most benefits from your homemade facial masks follow these tips:
Make sure your face is clean before using.
Mix ingredients for just one mask at a time.
Use fresh ingredients, not canned, whenever possible.
Apply the mask to your face with your fingers, avoiding the lips and eyes.
Let the mask dry thoroughly. Keep your face as relaxed as you can so the mask doesn't crack too much.
Rinse with cool water and gently pat skin dry.
3 Favorite Facial Mask Recipes
Here are 3 homemade face mask recipes to help you get started on your homemade beauty regimen.
For Dry and Mature Skin
Ingredient:

1 avocado, mashed

1 tablespoon honey

3 tablespoons plain yogurt

1 tablespoon olive oil

1 tablespoon applesauce

Direction:

Mix the ingredients together, gently apply to skin, and leave on for 20 minutes. Rinse off.
For Oily Skin
Ingredient:

6-8 strawberries, mashed

1 egg yolk, beaten with a fork

10 drops lemon juice

1 tablespoon plain yogurt

Direction:

Blend ingredients into a smooth paste and apply to face and neck. Leave the mask on for 15 minutes. Rinse off.
For Acne Treatment
Ingredient:

2-3 large strawberries, mashed

1 teaspoon brewer's yeast

12 drops lavender essential oil

Direction:

Blend ingredients together and apply to face. Leave on for 15 minutes. Rinse off.